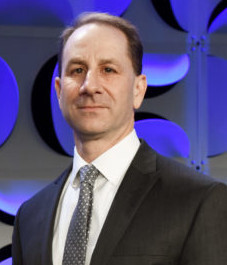 Eric Goldstein is a PSN Board Member, and serves as TIAA's Chief Strategy Officer and has responsibility for working with senior management to shape the creation and execution of TIAA's corporate strategy and corporate development efforts.
Eric joined TIAA in 2018 from JPMorgan, where he spent twenty years, most recently as Managing Director and Head of their North American Insurance Mergers and Acquisitions practice. At JPMorgan, Eric led a broad range of advisory and capital raising assignments for insurance companies and asset managers including most recently: AXA Equitable's $2.75bn IPO, Protective Life's $1.2bn acquisition of Liberty Life and Hartford Financial's $2bn sale of Talcott Financial. While at JPMorgan, he also worked with TIAA on both the Nuveen and EverBank transactions.
Prior to joining JPMorgan, Mr. Goldstein was a consultant with McKinsey & Co. in the firm's Financial Institutions Practice. While at McKinsey, Mr. Goldstein advised insurance companies and banks on both strategic and operational issues. Mr. Goldstein received his JD degree from Yale Law School and his undergraduate degree from Harvard University.
Back to Management Team